Here at Beacon Renal we have a dedicated team of over 100 specialised clinical staff including Nurses, Health Care Attendants, Dietitians and Doctors. We are always looking the best in class professionals to join our team especially those with previous renal experience or an interest in the area.
We offer excellent remuneration, further education grants and continued support through your career development. We will post all our current open jobs on the website but if you would like to leave your CV with us, please email us on HR@beaconmedicalgroup.ie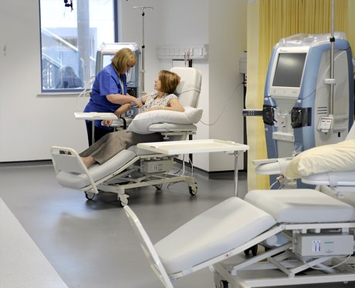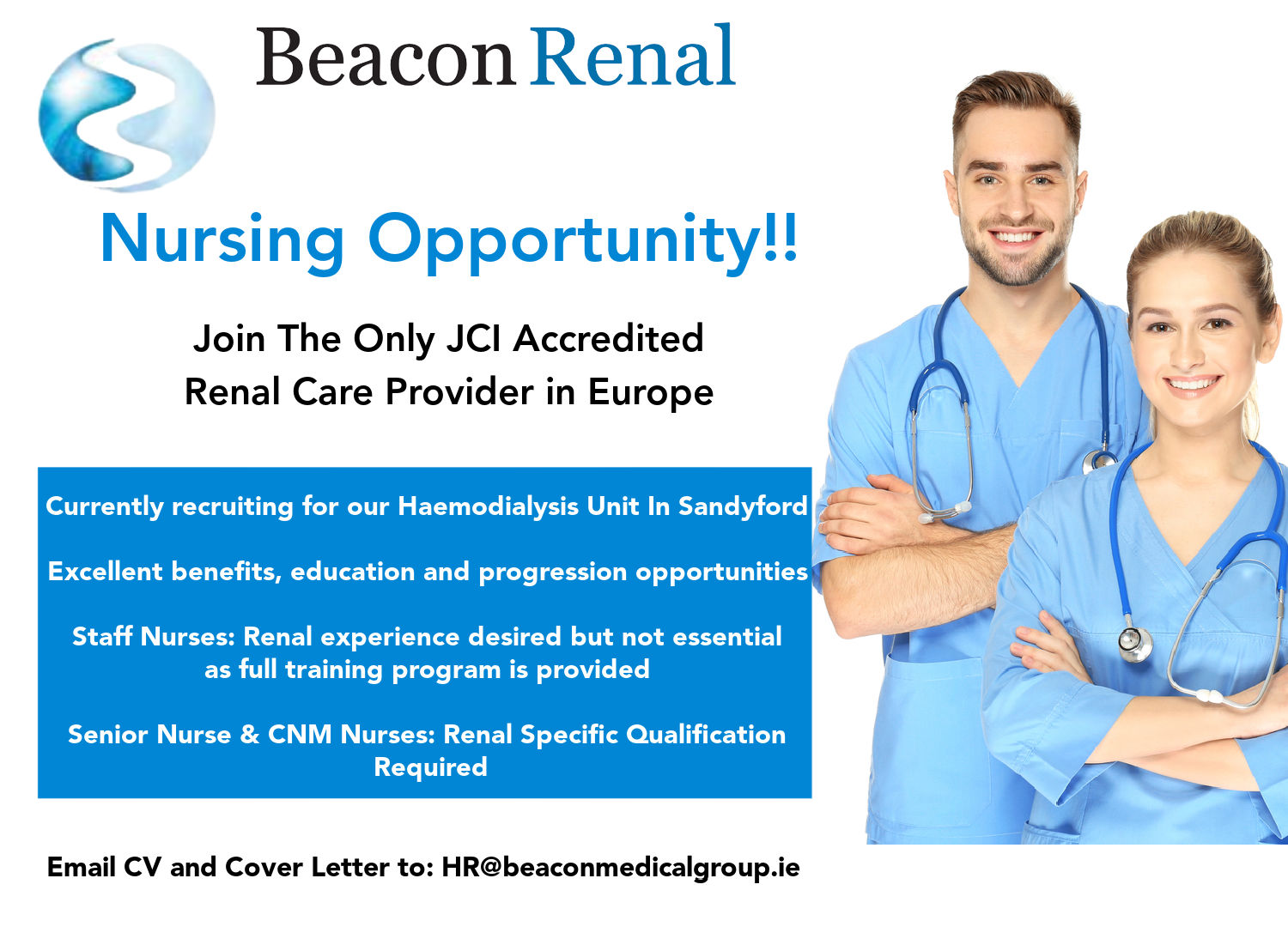 Registered Nurse
About Beacon Renal
Beacon Renal is Europe's only JCI accredited satellite dialysis unit. We pride ourselves in delivering the highest quality of care to our patients and delivering excellent customer care.
We operate Monday – Saturday. Closing by 7:15pm each night.
Overall Purpose of Job
To assist the Clinical Nurse Manager in the daily operations within Beacon Renal. This will include medical, nursing, administrative and technical support.
The staff nurse will provide holistic, patient centered care and specialty nursing care to Renal patients in an environment where quality, respect and compassion are at the center of everything we do.
The Staff Nurse will plan, implement and evaluate care to the highest professional and ethical standards within the model of nursing care practiced within Beacon Renal Units.
Nurses make sure to start, monitor and perform treatment and continuously keep a close eye on the equipment readings for their patient
The staff nurse will work closely with other medical staff to ensure that the patient is safe while undergoing haemodialysis treatment for their kidneys.
Essential Qualifications
Level 8 Nursing Qualification
NMBI Registration and ongoing annual retention
Post Graduate qualification in renal medicine is not essential but would give a candidate a distinct advantage
Desired Experience
All nurses will complete staff induction program at beginning of employment
Previous dialysis experience deemed highly desirable but not essential. Additional experience considered desirable but not essential:
Job Specific Competencies
BLS – valid certificate to be held at all times
Manual Handling- valid certificate to be held at all times
Hand Hygiene/ Standard Precautions
IV Drug administration
Fire safety training
Full knowledge of Beacon Renal Induction program upon completion of same
Ability to attain and maintain the understanding of renal dialysis process
Ability to attain
Personal Competencies
Confidentiality
Courtesy
Accountability
Communication
Dignity and privacy
Health and Safety.
All posts in Beacon Renal require a high level of flexibility to ensure the delivery of an effective and efficient service. Therefore, the post holder will be required to demonstrate flexibility as and when required by their manager or company management.
What we offer
Salary and Annual leave in line with INMO recommendations
Private Health Insurance
Pension Plan
Education grants
Progression Opportunities
On site Parking
To apply, please send cover letter and CV to: HR@beaconmedicalgroup.ie